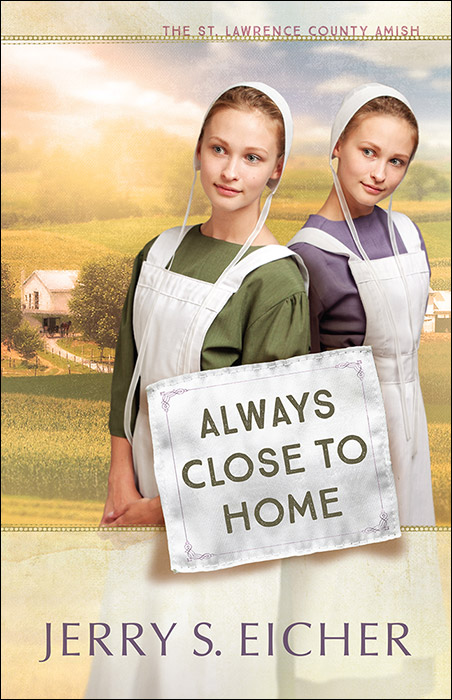 In this excerpt from Always Close to Home (The St. Lawrence County Amish series by Jerry Eicher), Lydia Mast is daydreaming in the quiet predawn hours as she awaits business at her uncle's roadside stand…
Enjoy the preview!
***
Hopefully Uncle Henry hadn't seen Milton smile at her after the service. Uncle Henry already knew too much of what there was to know about Milton and her. Milton was friendly, but things hadn't moved any further. They talked to each other around the farm, but that also seemed more like business than romance. If truth be told, she still felt shy about Milton and her feelings for him.
Laura, on the other hand, hadn't cared if the whole world knew about her relationship with John. Hadn't Laura kissed John in public on the day of the barn-raising—well, almost in public? Lydia could never do that. Love was a private matter kept in one's heart. She'd probably swoon with Milton's first kiss—if there ever was one.
Soft footsteps came up behind Lydia and she whirled around.
"Thought I was sneaking up on you?" Milton teased.
"Yah, because you were," Lydia shot back.
Milton wasn't fazed. "Penny for your thoughts on this fine morning?"
Heat flamed into her face, and Lydia looked away. Thankfully the darkness was still a cloak.
"Cat got your tongue?"
"I can speak perfectly well," she said. "Just don't go sneaking up on a girl when she's alone."
Milton gave her a wicked grin. "I was walking along the road like a normal human being, and there you were, all dreamy-eyed. No doubt thinking sweet thoughts of someone special. Who would the lucky man be?"
Lydia took a deep breath. "That's none of your business."
Her face was fiery red again, she was sure. She had to work around Milton until Christmas, so she had to get used to him. Somehow!
He was sober-faced now. "I'd be greatly honored," he said, "if it was me you were thinking of."
She said nothing in reply. She certainly wouldn't admit her feelings. It was bad enough her face was red.
"It is a nice moon," he said with a nod toward the horizon. "I guess you don't have to tell me who the man is, but…"
"I do agree, the moon is nice." Lydia grasped for the escape route, but Milton wasn't thrown off his trail.
"I know one thing, Lydia. The moon and you make me dream things." He looked toward the horizon again as a shadow crossed his face. "But life doesn't always let our dreams come true, does it?"
***
Excerpted from Always Close to Home by Jerry Eicher