AMISH FAMILY CHRISTMAS GIVEAWAY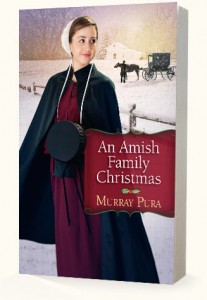 A PERFECT GIFT FOR YOURSELF OR A FRIEND THIS CHRISTMAS.
6 AUTOGRAPHED COPIES TO GO TO GOOD HOMES.
"I have never read such a really beautiful story as this one." – MLK
"The story had some wow moments. I literally couldn't out this book down." – Laura Price Hilton
"This is a very compelling story. I have read many Amish Christmas stories & this one is far different from all of the others." – Rhonda Gayle-Nash Hall
Micah Bachman knows what the Ordnung says about war. It's wrong, period. Even his desire to become a medic and save the lives of wounded soldiers carries no weight with the church leadership. Upon his return from Afghanistan, the bann is put into effect. Micah and Naomi may live together, but they may not talk, nor may they eat together, nor may they enjoy any of the comforts of one another.
Naomi knows she can't go on like this. How can she be in the same house as the man she loves and not tell him so? Added to her misery is the injury to her brother, Luke, who is now in a catatonic state after an accident that took the lives of their parents. When yet another tragedy strikes, God chooses to use the incident to bring about healing – but can the Amish people accept God's answer or will the Amish community break apart? All will be known on Christmas Eve . . .
Click the link below to enter:
https://www.goodreads.com/giveaway/show/71035-an-amish-family-christmas