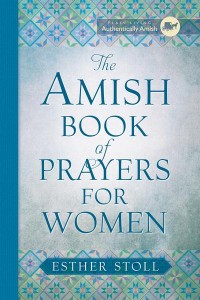 The Amish Book of Prayers for Women by Esther Stoll (February 2015)
Part of the Plain Living Series
(Other Plain Living books releasing this year: Our Amish Values, The Authentic Amish Cookbook, My Life as An Amish Wife)
About the Book:
Everyone's prayer closet could use a cool breath of fresh air once in a while. Whether you need to talk with God about your joys or your sorrows, simple pleasures or heartrending pain, you'll find new inspiration in these brief prayers from the heart of a young Amish wife and mother. They touch on topics from parenting and household responsibilities to personal character and the wonderful attributes of God.
Simple, direct, and brimming with heartfelt devotion—qualities long admired in the Plain people—these prayer starters will calm your heart, guide your thoughts, and lead you into a peaceful sense of God's presence.
Purchase the Book:
Amazon | Barnes & Noble | Christianbook.com
About the Author:
Esther Stoll and her husband, Philip, are parents of two children and members of the Old Order Amish Church. Esther deeply enjoys her role of homemaking and taking care of her family.
Sample Prayers:
Dear Father in Heaven, thank You for giving me sweet rest. As I kneel each morning and give the new day into Your hands, I feel so free, so light. As I go about my day knowing that You will fight, I rest—all I need to do is work and trust. I know that being at rest in You is one of the greatest gifts I can offer my children. Amen.
Dear Father: As I rock the cradle of our little ones, may it be a fruitful experience because of   You. As our children grow older, may they have a true desire to live a life of denying self, the world, and its lusts. May the children find it easy to follow us as we follow You. Amen.
Giveaway!
Leave a comment with your email address for a chance to win a hardcover (padded) copy of this beautiful little book!
Fine print: Giveaway is open to residents of the U.S. and Canada only, and participants must be 18 years old or older to enter. A winner will be randomly selected and emailed on Friday, February 13th. This giveaway is in no way sponsored by or affiliated with Facebook, WordPress, or Twitter.
Note: To celebrate this new release, we're featuring an inspirational theme for the blog in February. Be sure to visit throughout the month to read devotional posts by some of your favorite Amish fiction authors!
Last 5 posts by Amber | AmishReader.com