Gathering has a few different meanings, including "an assemblage of people" and "a collection, assemblage, or compilation of anything." (Definitions taken from Dictionary.com.) So let's gather together to enjoy this gathering of Amish-related posts and books! This is your chance to revisit your favorite AmishReader moments from the previous month, catch up on any features or book releases you might have missed, and share your own book reviews. 
***
A Gathering of Posts
Author Spotlights:
Featured Fiction:
Recipe:
Facebook Highlights:
Newsletter:
***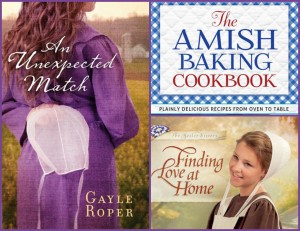 A Gathering of Books
Harvest House Publishers has three new Amish-related releases this month!
An Unexpected Match by Gayle Roper
The Amish Baking Cookbook by Georgia Varozza and Kathleen Kerr
Finding Love at Home by Jerry S. Eicher, Book 3 in "The Beiler Sisters" series
Have you read any of these? Are any on your TBR (to be read) piles? 
***
A Gathering of Reviews
Now, its your turn! Have you reviewed some Amish books this past month? Consider sharing a link or two (to your recent review(s) on your blog) in the comments section. You can also share about some other Amish book releases you know of for September. Let's make this a true gathering of thoughts and Amish-book readers!
Last 5 posts by Amber | AmishReader.com