This week we're featuring the dynamic duo who authored the "Men of Lancaster County" series! Today's guest is Mindy Starns Clark, and we're chatting about the first book in the series, The Amish Groom.  Let's take a trip to Amish country…
Mindy Starns Clark is the bestselling author of more than 20 books, both fiction and nonfiction (more than 800,000 sold) including coauthoring the Christy Award–winning The Amish Midwife. Mindy and her husband, John, have two adult children and live in Pennsylvania. Visit Mindy at her website: www.mindystarnsclark.com.
Welcome, Mindy—happy to have you here today! You mentioned in your interview on the Harvest House blog in August that your husband came up with the initial plot idea for this story. What was it about the premise that really resonated with you and Susan? Did your husband continue to give input during the writing process?
Mindy: Anyone who watches the book trailer will probably find the idea resonating with them as well. (It's my favorite book trailer ever!) I was just so drawn to the idea of a man truly torn between two worlds and having to decide in which one he belongs. Our main character, Tyler, is the son of an ex-Amish woman and a military man. When Tyler is six, his mother dies, and his father—who is about to ship off overseas—sends him to live with his mother's parents, the Amish grandparents he never even met until his mom's funeral. Just like that, Tyler's whole world changes. And though the arrangement is supposed to be temporary, it ends up lasting for years. Our story opens as Tyler is in his early 20's and is at the point where he has to make a decision. Is he Englisch, like the family he was born into, or Amish, like the family that has raised him since the age of six? The question of whether or not to join the church isn't an uncommon theme in many Amish novels. But this angle of really having one leg in each world brought a whole new dimension to it for me.
As for my husband's ongoing input, absolutely, I couldn't do my job without him. He's so great at plot ideas and story shaping and pacing. I call him the "Story Doctor." He can fix almost any issue, small or large, just by helping me reason through the problems or questions and offering up solutions. With this series, he's been especially helpful, because he's also our designated "male reader," the one who makes sure our male characters don't say or do anything that seems unmanly or doesn't ring true for the male psyche.
Did you draw from any real-life examples for any part of the story?
Mindy: I imagine bits and pieces of every story come from real life in one way or another. But I guess one scene in this book that comes to mind is when Tyler is out in California, staying at his dad's house, and he accepts an invitation to church from a twenty-something young woman whom he has befriended. It turns out to be a megachurch with a super modern, young-adult-oriented service complete with videos and a Christian rock band and everything. In other words, it is the complete opposite of the very quiet, very somber, very multigenerational types of Amish services that Tyler is used to. It was fun to see such a startling contrast through his eyes and then have him process the whole idea of what worship looks like to different people.
The idea for that scene came from a church we visited in Lancaster County during a research trip for the book. Though our home church falls somewhere right in the middle of the two extremes, we'd been planning to attend a conservative Mennonite church while there, one that had been recommended by friends. We were running late, however, so we ended up having go to a later service at a nondenominational church instead. As it turned out, that place was rockin', with a full-on multimedia assault. It was great—as I'm sure the Mennonite church would've been as well—just extremely different from the worship service we'd been expecting!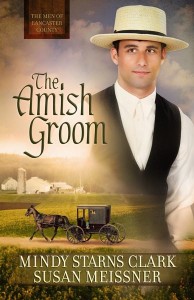 Most Amish romance novels are either from the heroine's point of view, or both hers and the hero's. Since most readers of this genre are female, what's the appeal in seeing the story strictly through the hero's eyes?
Mindy: I think it's just really important to view "life" through a completely different lens sometimes, so to speak. Avid readers of Amish fiction are a savvy bunch and have acquired all sorts of knowledge about the Amish life through the stories they've read. But experiencing these same kinds of elements from a male perspective really does offer a fresh and unique take on the subject. It's fun and fascinating.
For example, in the early chapters of the book we go to an Amish wedding, which is not an uncommon element of an Amish novel. But rather than seeing it through the eyes of a young woman, perhaps one who is single and hoping to sit with the guy she likes or whatever, we're seeing it through a man's eyes, where we learn about the rejection factor and how it feels when a guy asks a girl to join him and she turns him down. Simple touches like that make a really fun difference and offer a whole new take on familiar components.
On a deeper level, telling stories from a male viewpoint allows us to explore more male-oriented issues such as the father-son bond, or the balance between being strong and allowing oneself to experience deep emotions, or the matters to be weighed prior to making a marriage commitment. These are all things that men deal with, yet women are deeply interested in them as well. Hopefully, these stories will offer insights that both men and women find satisfying to read—and that may even be useful in real life!
It's probably safe to say that most people who pick up this novel would never have to choose between the Amish love-of-their-life and the freedom of the Englisch. How might they still be able to relate to and learn from Tyler's struggles?
Mindy: I think as we grow, each of us reaches some point where we find ourselves transitioning from that person our families molded us to be and/or expect us to be and the person we really are as independent adults. It's a rite of passage for everyone, Amish or not, so it's a common struggle and one that will likely resonate with most people.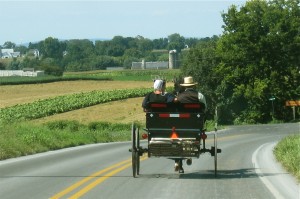 What's one of the things you appreciate most about the Amish lifestyle?
Mindy: The peace and quiet! Amish life is engineered to allow plenty of time for prayer, meditation, reflection, and the like, and though there are certainly the sounds of conversation and daily life and various appliances and machines running from alternative power sources, there's nothing digital, which makes a tremendous difference in the overall volume level. Imagine how much quieter your world would be without any phones, televisions, computers, iPads, video games, etc. It's a kind of silence that many of us forget can even exist! Just the difference between a calm, slow buggy ride and a mad dash in the car—radio blaring, GPS directing, phone ringtoning, and more—is like night and day. I doubt I would ever have the strength and discipline to unplug quite so completely, but I do enjoy the quiet tremendously when visiting Amish homes.
They also cook some pretty amazing food too.

Thank you for taking the time to visit with us, Mindy! 
Amish Readers, tell us—what do you appreciate most about the Amish lifestyle? (And don't forget to stop by on Thursday as we chat with Susan Meissner about Book 2 in the series!)
Photos from Amish country courtesy of Mindy Starns Clark. Top photo is of Mindy and her husband when they were conducting research on an Amish farm.
Last 5 posts by Amber | AmishReader.com