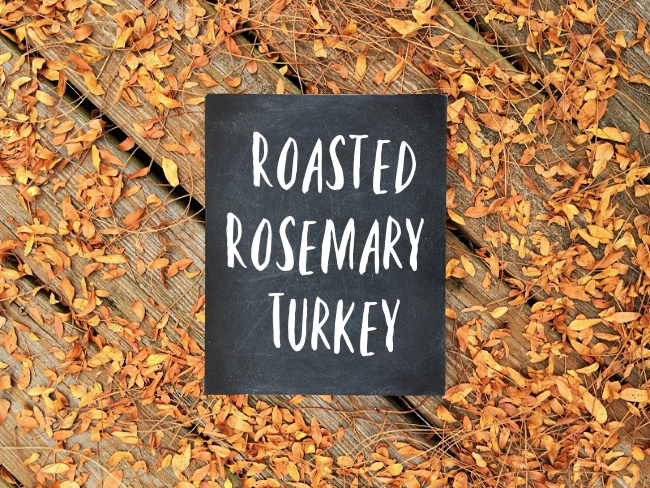 Prepare the main dish for your Thanksgiving dinner a few days early with this recipe from Dawn Stoltzfus, coauthor of From the Farmhouse Kitchen! The recipe begins with a quick note from Dawn…
Roasted Rosemary Turkey
Confession: Turkey is one of my least favorite meats. I know it is a leaner choice than other meats, but there is something about it that I just don't love. But, for the one time of year when I cook a whole bird, this is the recipe I like to use.
According to my friends Shawn and Katrina, who run a nursing home and cook five turkeys every Thanksgiving, the key to a moist bird is to prepare the turkey three or four days in advance. Carve the bird and return it to its pan juices. As it sits in the liquid, it stays moist. Before serving time, reheat it just until hot. It truly does make for a more delicate white meat.
Ingredients:
– 1 (15 lb.) turkey
– 2 onions, quartered
– 4 garlic cloves
– 2 apples, quartered
– ½ cup (1 stick) butter
– 3 T. rosemary, dried
– 8 garlic cloves, minced
– 2 T. seasoning salt
– 1 tsp. black pepper
– 1 tsp. paprika
Directions:
In a large roasting pan, place the turkey breast-side down. Stuff the bird's cavity with the onions, garlic, and apples. Liberally salt the outside.
In a small saucepan, melt the butter. Remove from heat and add the rosemary, garlic, seasoning salt, black pepper, and paprika. Pour this mixture over top of the bird. Rinse the butter pan with 2 cups warm water, and pour this water into your roasting pan, to the side of the bird, rather than on it, so you don't rinse off your seasonings. Cover tightly and roast the turkey according to the package directions.
Remove from the oven. When the turkey has cooled enough, place it back in the juices. Refrigerate the turkey until the day you want to serve it. Reheat the bird at 350˚ for 45 minutes to an hour, or until heated throughout.
Serves about 15 people
Hint: When baking a whole turkey, it's best to figure approximately one pound per person.
* * *
About From the Farmhouse Kitchen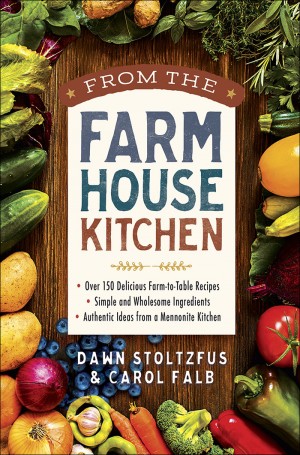 Fresh, Simple, & Wholesome Recipes
From Our Family to Yours
From the farmhouse kitchens of mother and daughter Carol Falb and Dawn Stoltzfus comes a collection of over 150 delicious recipes plus charming stories of everyday life on an active, working dairy farm.
Let Carol and Dawn show you how easy it is to share farm-to-table goodness with your loved ones, even if you don't have your own garden…or working farm. Cooking should be more than just prepping food. When you prepare healthy meals using high-quality whole foods, you extend the love of Christ to others and bless them with your servant's heart.
From fresh salads to hearty entrees to tantalizing desserts, let these treasured recipes become part of your family's mealtime traditions and find joy in the simplicity of cooking fresh.
Amazon | Barnes & Noble | Christianbook | Harvest House Publishers
Dawn Stoltzfus, devoted wife and mother of four, has a passion for discovering creative ways to serve healthy, quick, and good food to friends and family. Before becoming a full-time stay-at-home mom, she managed The Farmer's Wife Market, a bakery, deli, and organic market outside of Washington, DC.