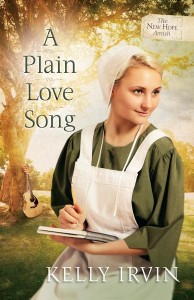 A Plain Love Song by Kelly Irvin (July 2014)
Book 3 in the "New Hope Amish" series
(Book 1: Love Still Stands; Book 2: Love Redeemed)
About the Book:
Kelly Irvin, author of the Bliss Creek Amish series, brings the story of the New Hope Amish to a dramatic conclusion in A Plain Love Song.
Adah Knepp wants nothing more than to make music. It's all she's ever desired—to sing and play the guitar and write her own songs. That's a dream that will never come true in the confines of her strict Amish community. But then she meets Jackson Hart, and all of a sudden she finds the chance for a different kind of life. A real stage, a real guitar, and a real opportunity to sing her songs to a real audience!
But pursuing her dreams means turning her back on her family and community—and saying goodbye to Matthew, the gentle Amish farmer she can't get out of her mind. Is it worth giving up the only home she's ever known to pursue her dreams?
Favorite Quote:
He leaned back and tugged a pick from his jeans pocket, then picked up the guitar and began to pluck one note at a time, slowly and carefully. Each note sounded hopeful. Hopeful that another might follow.
What I Enjoyed:
The inclusion of original song lyrics.
The authenticity of the characters' struggles and emotions.
The characters' real flaws. (Neither "hero" is perfect, which makes the love triangle that much more intriguing! In fact, after you've read the book, you might be interested in taking a peek at the alternate ending Kelly wrote for the story.)
The references to country music. (It's fun to come across names you recognize!)
The romantic tension. (See point #3.)
The wisdom from secondary characters. (I'm fond of Matthew's groossdaadi and Jackson's aunt Charlene.)
Question for You:
How important is music in your life? Would you have a hard time giving up instruments and iPods?
Giveaway!
Leave a comment with your email address for a chance to win a paperback copy of this book!
Fine print: Giveaway is open to residents of the U.S. and Canada only, and participants must be 18 years old or older to enter. A winner will be randomly selected and emailed on Tuesday, August 19th. This giveaway is in no way sponsored by or affiliated with Facebook, WordPress, or Twitter. 
P.S. Be sure to mark your calendars for next Thursday (August 21), because Kelly Irvin is going to be our guest here on the blog!
Last 5 posts by Amber | AmishReader.com