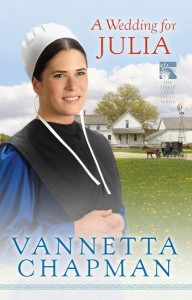 A Wedding for Julia by Vannetta Chapman (July 2013)
Book 3 in "The Pebble Creek Amish" Series
(Book 1: A Promise for Miriam; Book 2: A Home for Lydia)
About the Book:
A Wedding for Julia, the third book in a romantic series from popular author Vannetta Chapman, takes a last look at the Amish community of Pebble Creek and the kind, caring people there. As they face challenges from the English world, they come together to reach out to their non-Amish neighbors while still preserving their cherished Plain ways.
Julia Beechy is so stunned, she can hardly breathe. Her mother's announcement that she must either marry or move from the family home upon her mother's imminent death catches Julia by surprise. How can she leave the only home she has ever known? What about her dream of opening her own Plain café?
When Caleb Zook offers support, comfort, and a solution, Julia is afraid to accept it. Can she marry someone she barely knows? Is it the right thing to do? Is this God's plan for her future?
Caleb thought his time for marrying was long past, but he feels a stirring in his heart he cannot shake for this beautiful, forlorn woman. Amid the circumstances of this life-altering decision, the people of Pebble Creek weather the worst storm to hit Wisconsin in the last hundred years. Where will Julia and Caleb be on the other side of it?
Favorite Quotes:
His mamm used to say that prayer eased the heart by lifting burdens up and into their proper place. He wasn't one for fancy praying, but maybe that didn't matter so much. Maybe it was the asking that counted. p. 18
When Ada quoted from the Bible, it was as if she were sprinkling salt on a meal. She was seasoning the day. p. 22
What I Enjoyed:
The tender marriage-of-convenience romance.
The gentle hero and heroine, with their quieter personalities and their hardworking, kindhearted ways.
The wonderfully authentic secondary characters—from Julia's mother, to friends from previous books in the series, to Caleb's cousin Sharon.
The portrayal of the Englisch: both the kind neighbors and the customers at the café and cabins.
The suspenseful elements lightly sprinkled in the earlier parts of the story, then coming on strong at the end.
The profound and comforting inclusion of the Psalms throughout the book.
The deep sense of community, love, and contentment permeating the pages.
Note: Please note that some of these "Featured Fiction" posts will include giveaways, and others will not. Giveaways will be clearly labeled and promoted as such. I hope you enjoy discussing and/or catching a glimpse of some great Amish fiction!
P.S. Be sure to visit again tomorrow for a fun and enlightening interview with the author of A Wedding for Julia, Vannetta Chapman!
Last 5 posts by Amber | AmishReader.com