We're celebrating a sweet and simple Christmas here at AmishReader.com with a series of fun author interviews! Join some of your favorite Amish authors as they share happy reminiscences of Christmases past, interesting information on the Amish approach to the holiday, and fascinating lists of Christmas/book favorites. Find a cozy place by the fire or looking out on the wintry weather, prepare a mug of hot chocolate, and enjoy Part 3 of this special 3-part interview…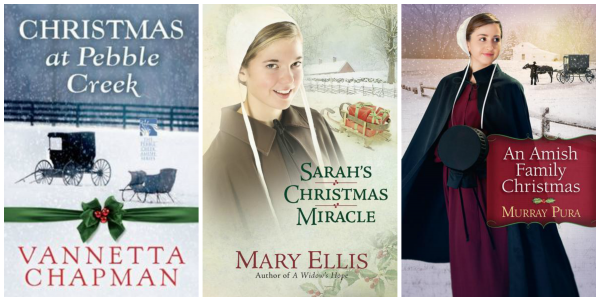 Featured Books:
Welcome back, Vannetta, Mary, and Murray! Today, we'd like to know which one you'd choose out of two Christmas-themed options…
1. White Christmas or a sunny holiday?
Vannetta: Well, I live in Texas so I usually have SUNNY, but I wouldn't mind WHITE.
Mary: Since I've lived in northern Ohio my whole life, I would pick a sunny holiday. I believe I've only had one once or twice!!
Murray: White Christmas with tall evergreens and mountains.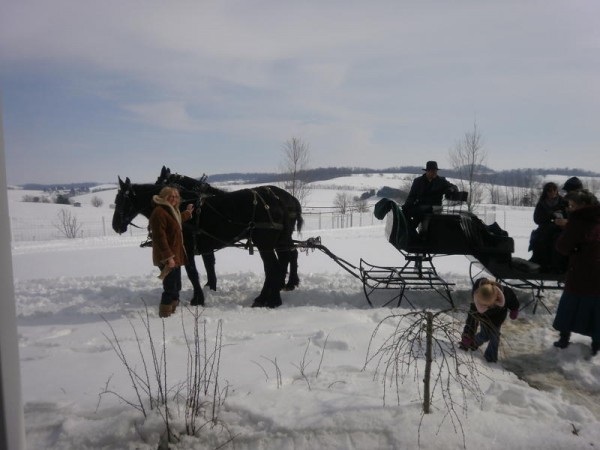 Mary Ellis preparing for a draft-horse-drawn sleigh ride in Ohio's Amish country
2. Riding in a horse-drawn sleigh or sledding downhill?
Vannetta: Sleigh. Definitely sleigh.
Mary: Definitely a horse-drawn sleigh. I've only done this once, but I loved it! I get too cold and wet while sledding.
Murray: A sleigh ride is Christmas magic.
3. Lots of presents or one meaningful gift?
Mary: Lots of small, inexpensive, practical gifts like socks, tablets, pens, or candy. I love opening presents.
Murray: Too many gifts spoil the event. So a sock and one meaningful gift.
4. Big family dinner or a nice restaurant?
Vannetta: Big family dinner – that way the dog is allowed to come.
Mary: If we can get away, then a big dinner with out-of-town family in Kentucky or Texas.
Murray: Family dinner for sure. There's nothing like relaxing at home instead of not-really-relaxing at a restaurant.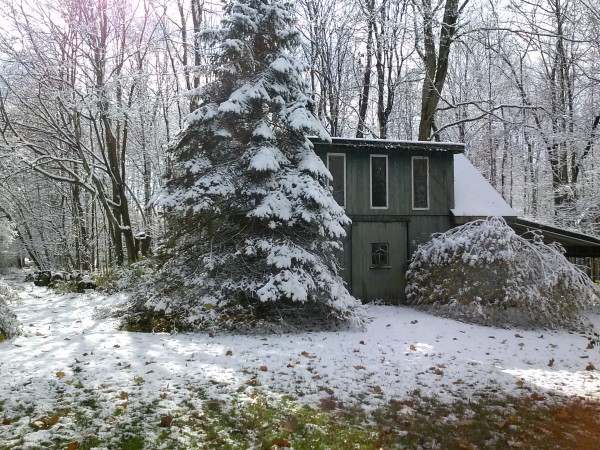 Mary Ellis's barn in the winter
5. Home for Christmas or traveling elsewhere?
Vannetta: Home. I like to be snuggled on the couch with a fire blazing, my dog lying next to me, and holding a good book with everyone around me doing the same.
Mary: Usually we travel for both Easter and Thanksgiving, so we're home just the two of us for Christmas.
Murray: Home is where the people are so if it means travel, fine, so long as road conditions or sky conditions permit, and the trip itself can be a happy part of the celebration, not a huge stress.
Thank you Vannetta, Mary, and Murray for joining us this week and helping us to celebrate Christmas here on AmishReader.com!
Giveaway!
Amish readers, share your choices for all 5 of the either/or scenarios (listed above) in the comments section to enter to win a paperback copy of An Amish Family Christmas by Murray Pura!
Fine print: Giveaway is open to residents of the U.S. and Canada only, and participants must be 18 years old or older to enter. A winner will be randomly selected and emailed on Friday, December 26th. This giveaway is in no way sponsored by or affiliated with Facebook, WordPress, or Twitter.
Last 5 posts by Amber | AmishReader.com