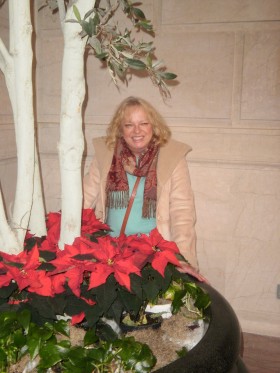 We're celebrating a sweet and simple Christmas here at AmishReader.com with a series of fun author interviews! Join some of your favorite Amish authors as they share happy reminiscences of Christmases past, interesting information on the Amish approach to the holiday, and fascinating lists of Christmas/book favorites. Find a cozy place by the fire or looking out on the wintry weather, prepare a mug of hot chocolate, and enjoy Part 2 of this special 3-part interview…
(Mary Ellis is pictured left)
Featured Books:
Welcome back, Vannetta, Mary, and Murray! Today, we're talking favorites.
Please name your favorite…
Amish Christmas recipe
Vannetta: A yellow cake with homemade chocolate icing.
Mary: My favorite Amish recipe is the Christmas cake recipe in the back of Sarah's Christmas Miracle. It contains a pound of butter, a cup of yellow raisins, and 3 cups of chopped pecans. What's not to like?
Murray: Oh, I have one that can turn Christmas upside down it's so good: a 30-day Amish Friendship Cake that includes pecans, walnuts, coconut, peaches, pineapple, cherries, raisins, vanilla, and brandy. Once the 30 days of preparation are completed, and the cake is finally baked to a golden brown, any Amish within a hundred miles will be knocking at your door and asking for a slice, bitte. The recipe is too long to include here, but if you write me via Harvest House I can provide it. Mind you, it will have to be for a late-January cake at this point, but that's all right; it will help you beat the post-Christmas blues and the long winter doldrums.
Character in your story
Mary: My heroine, Sarah, is my favorite. She's complex and confused, as we all are at times, but she's kind and has a heart for Jesus.
Murray: Micah, the young man who is estranged from the Amish community after returning from a tour of duty as a medic in Afghanistan. He keeps his cool, fosters love, submits to the shunning, and is ready to help and bless the community despite the harshness of his situation.
Christmas tradition
Vannetta: Opening one gift with our children on Christmas Eve.
Mary: Traveling to downtown Cleveland to see the lights and attend services at the Old Stone Church on Public Square. I go with my husband now that my mom is gone.
Murray: The Christmas Eve Box. Into it goes a selection of gifts that may be opened Christmas Eve. There are beverages to drink and the glasses to drink from; things to eat like specialty cheese and crackers and cold cuts, as well as a cutting board to prepare food on; a Bible and a book to read out loud. Everything you want to eat or drink or do on Christmas Eve is sealed in a beautiful box – either a decorated cardboard one or, in our case, an attractive chest handmade from knotty pine.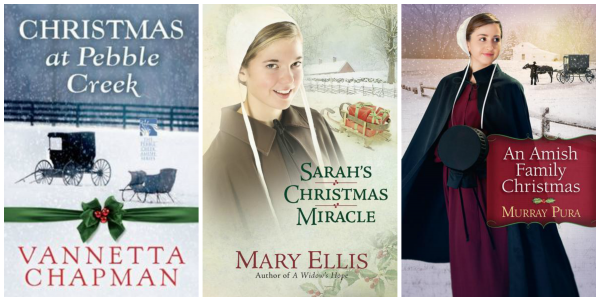 Element of your cover
Vannetta: I love the green bow on the cover! The book looks like it's been gift-wrapped!
Mary: I love the model selected to be my Sarah. She's so sweet and earnest looking.
Murray: I love the use of burgundy and black on the cover; it's a very pleasant color mix, in particular the young woman's black cape contrasting with her maroon or burgundy dress.
Line from your story
Vannetta: "Sometimes I wonder what would have happened if we'd all ridden together, if the buggy I was in had turned left instead of right. But as mamm says, it's best not to wonder over what-if's. We did turn right as the sun was slipping toward the horizon, and my life was never the same."
Mary: "Sometimes a person didn't appreciate the goodness the Lord has bestowed until it was almost gone."
Murray: "My Lord, so much has changed for the better, and yet for the great change to come so much had to be lost—our pride, our hardness of heart, our tradition, our unwillingness to bend, our reluctance to think something we did not understand could be from you. It has not been easy. It has not been without pain. But neither has it been without its own special glory. And it has been your doing."
Join us tomorrow (December 18th) for Part 3 of this interview with Vannetta, Mary, and Murray, as we talk about some either/or scenarios!
Last 5 posts by Amber | AmishReader.com