We're celebrating a sweet and simple Christmas here at AmishReader.com with a series of fun author interviews! Join some of your favorite Amish authors as they share happy reminiscences of Christmases past, interesting thoughts on the Amish approach to the holiday, and fascinating lists of Christmas/book favorites. Find a cozy place by the fire or looking out on the wintry weather, prepare a mug of hot chocolate, and enjoy Part 1 of this special 3-part interview…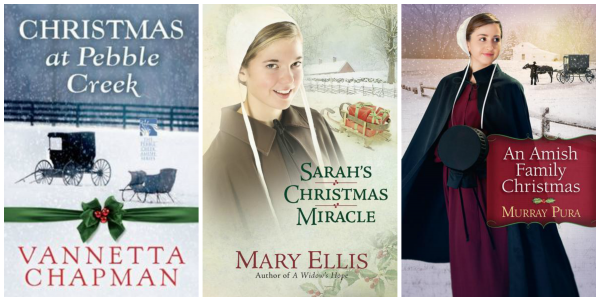 Featured Books:
AmishReader: Welcome, Vannetta, Mary, and Murray! Wonderful to have you here with us this week before Christmas. Tell us, what did you find most challenging about writing a story set during the Christmas season? Most fun?
Vannetta: I live in Texas – so sometimes it's hard to remember exactly what all of that snow and cold weather feels like. Christmas at Pebble Creek is set in Wisconsin, and they certainly have their share of winter weather. I did spend three years as a child living in Connecticut, so it was fun to pull out those pictures, look at the snow and mittens and sleds, and remember.
Mary: The Old Order Amish celebrate the holiday differently than us, and not all districts celebrate the same way. I had the responsibility to "get it right," at least for my specific community. The essence of the holiday season makes it fun, no matter what your denomination.
Murray: You have to write the story well before Christmas occurs, so getting in a "Christmas mood," and writing in that mood for several weeks and months, isn't always easy. On the other hand, the process fixes your mind on a time of year that is normally quite pleasant, so it becomes a series of "feel good" writing sessions for the most part.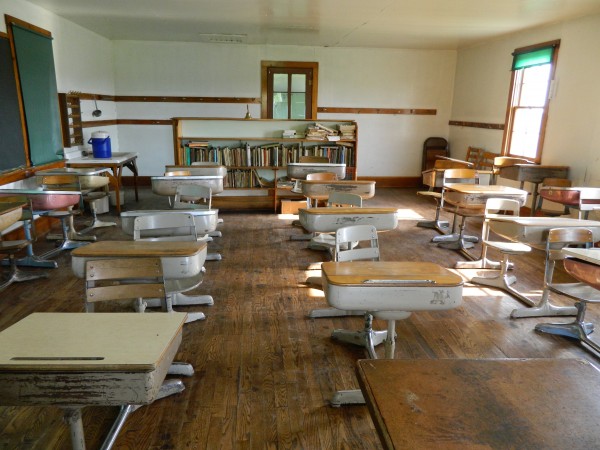 Amish schoolroom in Wisconsin (Courtesy of Vannetta Chapman)
 AmishReader: Please share one of your favorite Christmas memories. Did it have any bearing on your story?
Vannetta: The story opens with Grace (the little girl from A Promise for Miriam) grown and now teaching school—they've just had the Christmas program and are about to have a short Christmas break. I have many good memories of Christmas from my childhood, but this story brought back memories from my teaching days. I loved teaching, and I especially liked the anticipation and fun during the days preceding Christmas break. I would read stories to my high school students—maybe O. Henry's Gift of the Magi or Charles Dickens' A Christmas Carol. Most students have seen cartoon renditions of these classics, but when they read the original story they understand why they became a classic. Some of my favorite Christmas memories are of sitting in a classroom, with 30 students around me, hanging on to every word I read and not wanting to leave when the bell rang. We had a lot of fun with snacks and decorations too! I try to put this love for teaching and reading into my stories.
Mary: One of my favorite memories is riding the bus with my mom downtown to see the beautiful lights and displays on Cleveland's Public Square. We couldn't afford to shop in the fancy department stores, but we would ride the escalator to see the decorations on every floor. My Amish character, Sarah, takes a trip to Cleveland from Winesburg and experiences what I did as a child.
Murray: I used to love to sit in the dark and look at the tree when it was all lit up. We had random blinking lights on the tree as well and, as a boy, I never got tired of watching them. However an Amish Christmas celebration is a different affair in many respects so my fondness for gazing at the tree in the dark never made it into my story.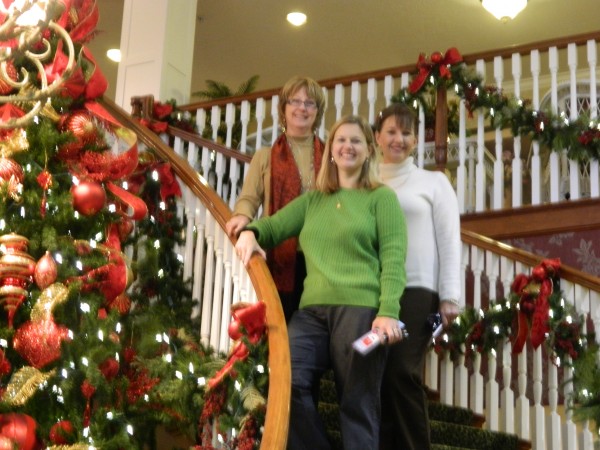 Vannetta, Shelley, and Amy in Shipshewana
AmishReader: Have you ever visited Amish country during the holidays? What do you especially love about how the Amish celebrate Christmas?
Vannetta: I have! I had the pleasure of being asked to lead the Christmas parade in Shipshewana, Indiana with Shelley Shephard Gray and Amy Clipston. That was a very special experience. We were put in a sleigh with beautiful horses, a lighted harness, and a warm blanket across our laps. It felt like we were in a fairy tale!
Mary: I have visited Holmes and Wayne Counties in Ohio, several times during the holidays. I love how they concentrate on friends, family, and most of all, the Lord during this holy season. Englischers put too much importance on the commercial aspect of the season.
Murray: I have not been in Amish country during the holidays – though Amish country has greatly expanded over the last decade and now there are five locations in nearby Montana – but I have read quite a bit about it. I would have to say I most admire the simplicity of their celebration and the absence of mass commercialization. Their Christmas is very worship-centered and family-centered.
Join us tomorrow (December 17th) for Part 2 of this interview with Vannetta, Mary, and Murray, as we talk about more Christmas favorites!
Last 5 posts by Amber | AmishReader.com