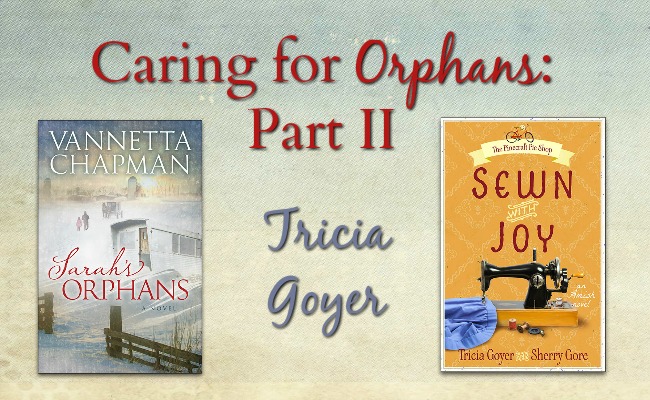 This week, in celebration of the release of Sarah's Orphans by Vannetta Chapman, we're talking about the blessing of caring for orphans. Today Tricia Goyer (author of Sewn with Joy) shares about her experiences with adoption…
Read Part I of this series (article by Vannetta Chapman) HERE!
* * *
My heart for adoption started with a magazine article about orphans in China over fifteen years ago. As I looked at the photograph of the sweet babies in an overcrowded orphanage, a Scripture came to my mind: "Pure and genuine religion in the sight of God the Father means caring for orphans and widows in their distress and refusing to let the world corrupt you" (James 1:27 ɴʟᴛ).
The verse stayed with me over the years, and we never did adopt a baby from China, but God opened doors in other ways. A friend of mine connected us with a birth mom who was looking for a family for her baby, and we adopted Alyssa in 2010.
A few year later John and I heard about the needs of families to adopt children from the foster care system, and we adopted Casey and Bella in 2013. For a few years I thought we were through (with our biological children we now had six kids), but a few years later we felt God's stirring in our hearts again. We learned there was a huge need for families to adopt sibling groups, mostly made up of older kids. After talking to an adoption specialist, John and I were matched with a sibling group of four girls, ages 11-15. We welcomed them into our house in 2015, and the adoption of Maria, Lauren, Jordan and Florentina was finalized this year.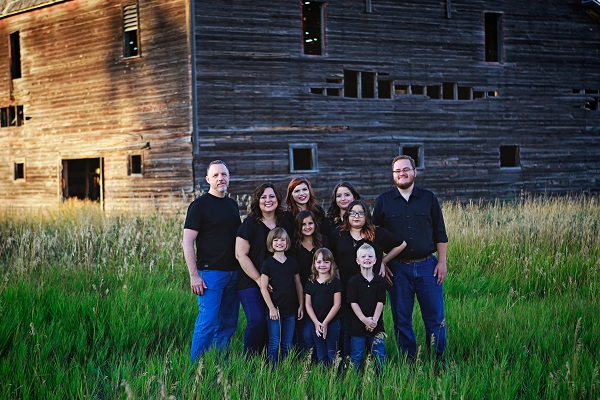 I won't say that adoption has been easy. Adopting kids from foster care was especially hard. These kids have faced neglect and abuse. The stories they tell me are heart-breaking. We've received a lot of help from professionals and counselors. And over time the love and care we've given our kids has broken down walls, which I'm thankful for!
Another hard aspect is the addition of so many people to our home! After two of our older kids left home, we only had a teenage son and a little (adopted) baby in the home. Within a few years our walls were bursting. We now have 11 people in our home, including my 87-year-old grandma who has lived with us for the last 15 years.
Of course I have to laugh because I've been writing Amish novels for many years, and I'm just now starting to understand what living in a big family is all about. I have doubled all my recipes to feed this crew and the chores are twice the work, too. Thankfully, I have a washer and dryer, and I'm able to travel by van, instead of horse and buggy, to all our appointments. I can't imagine having this many kids without those luxuries!
One thing that I know I have in common with Amish mamas is the discovery that my love is able to grow with each child added to the family. It's not like I only had so much love to give around and with new kids the "old" ones got less love. Not at all. Instead, my heart has expanded and the love has multiplied. Not only that, the kids' love for each other has grown. There has been some conflict, but there's been even more joy. When one of the kids is away at a friend's house or an event, their absence is noticed, and everyone is happy when we're all around the table again.
Adoption wasn't something that I even considered when I was growing up, but I'm thankful that God had different plans. That one magazine article opened the doors to a life and a family that I love. It's amazing what can happen when you allow God's dreams to be planted in your heart and grow!
Want to learn more?
Find further resources in Tricia's Adoption Directory post.
* * *
About Sewn with Joy…
Sometimes Dreams Come Together
One Piece at a Time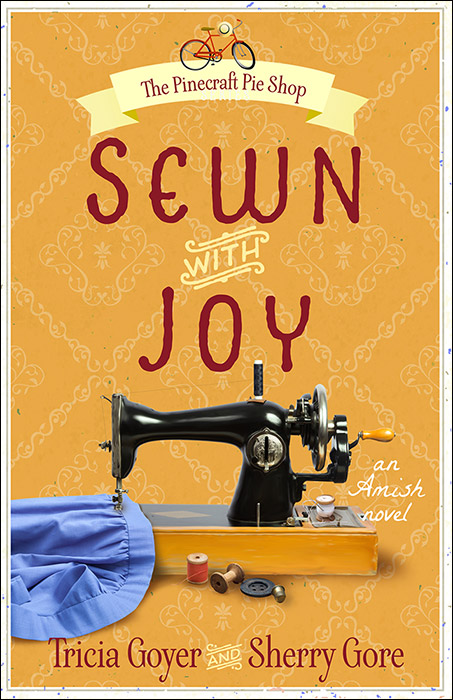 Joy Miller wanted nothing more than to be a wife and mother—especially now that her relationship with Matthew Slagel, the bishop's son, was deepening. But when a television crew rolls into Pinecraft, Florida, to film a new show about the Amish, tension threatens to rip apart their relationship…and the entire Amish community.
Joy is initially hired to sew costumes for the show, but she soon finds herself becoming increasingly involved in the production—a fact that upsets Matthew and his father. Yet the more Joy befriends the Englischer production crew, the more she senses God working in their lives through her. Can she turn her back on this opportunity to share God's love? Will she and Matthew somehow be able to stitch together their dreams for the future?
Experience love, heartbreak, and hope in this sweet story of two worlds uniting in unexpected ways.
Amazon | Barnes & Noble | Christianbook
* * *
Tricia Goyer is a homeschooling mom of ten, grandmother of two, and wife to John. A USA Today bestselling author, Tricia has published over 55 books and is well-known for her Big Sky and Seven Brides for Seven Bachelors Amish series.
Visit her at www.TriciaGoyer.com.
Last 5 posts by Amber | AmishReader.com