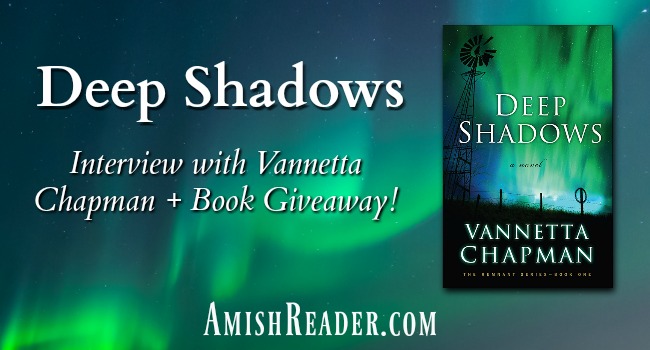 Vannetta Chapman's new novel has nothing to do with the Amish…or does it? Today we're chatting with Vannetta about her latest release, which is the first book in a Christian dystopian series. Read on to learn more and to find out how you can enter for a chance to win a copy of Deep Shadows!
* * *
1. AmishReader:
Vannetta, you are the author of Amish romance, Amish mysteries, and romantic suspense novels. How do you switch gears when writing different genres? Do you have a particular genre you enjoy writing the most?
Vannetta: I really like writing all of them! I just adore writing stories, and especially hopeful stories…I think we can all use a little of that given the times we live in. I do have different "playlists" in my iTunes account for whichever genre I'm writing. The music for Deep Shadows was quite different from the music for Joshua's Mission.
2. AmishReader: Deep Shadows, as Christian dystopian fiction, presents a potential (not-too-distant) future world where all modern technology has been wiped out due to a solar flare. While your characters aren't Amish, what wisdom could they glean from the Amish culture in this situation?
Vannetta: A lot of what I've learned from visiting Amish communities helped with my research for Deep Shadows—growing big gardens, using heirloom seeds, helping one another, having a close-knit community, getting by with less, depending on your faith. These are all things that each of us can benefit from, regardless of our circumstances.
3. AmishReader: How does the theme of community, which is often a major part of Amish fiction, play a role in Deep Shadows?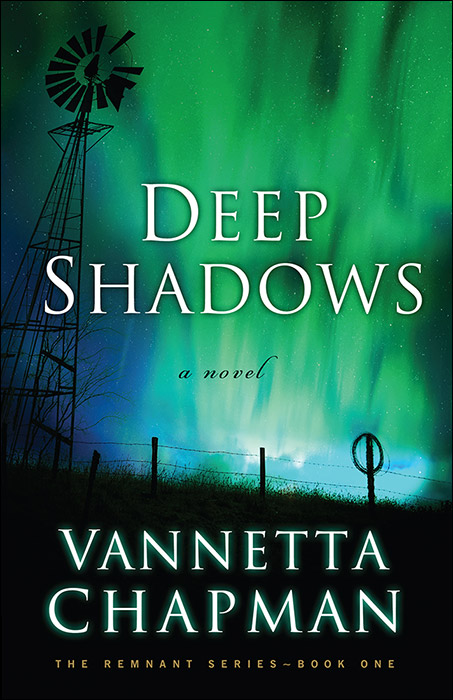 Vannetta: So many readers have written to me saying they'd like to have an Amish pen pal, or they'd like to move to an Amish community. I think a big reason for that is we want that sense of knowing our neighbor, of not being isolated! But of course you don't have to be Amish to be a good neighbor. In Deep Shadows, Shelby realizes that she has become too isolated and that she won't make it through the trials ahead without the help of friends and neighbors. As Christians, we're called to a life of community. Remember Christ told us to "love your neighbor as yourself." If we practice that, we create important connections with the people around us.
4. AmishReader: What are a few essential tips you've learned for surviving in a world without technology?
Vannetta: In Deep Shadows the power grid is down for a very long time. While researching this book, I learned that most of us couldn't make it more than a few days. Things that would help during even a brief power outage are:
Know the name and phone number of one or two neighbors.
Have some peanut butter, crackers, and other basic food stocked in your pantry.
Be sure you have flashlights with batteries that work.
Keep your prescriptions filled—don't wait until you're down to the last pill.
Have some emergency cash on hand.
Don't let your cars get close to empty. Get in the habit of filling up when you reach a quarter tank.
Write out a list of Bible verses that you can turn to during hard times.
5. AmishReader: What are some features of Deep Shadows that fans of your Amish fiction would appreciate?
Vannetta: I've received such wonderful feedback regarding Deep Shadows, much of it from my Amish fiction fans. They especially enjoy the sense of community, the way my characters' faith grows during tough times, how the story is realistic and yet hopeful. God's grace is a theme that I try to carry through each of my books, and I felt like it was a very important part of Deep Shadows.
AmishReader: Thank you so much for joining us today, Vannetta!
* * *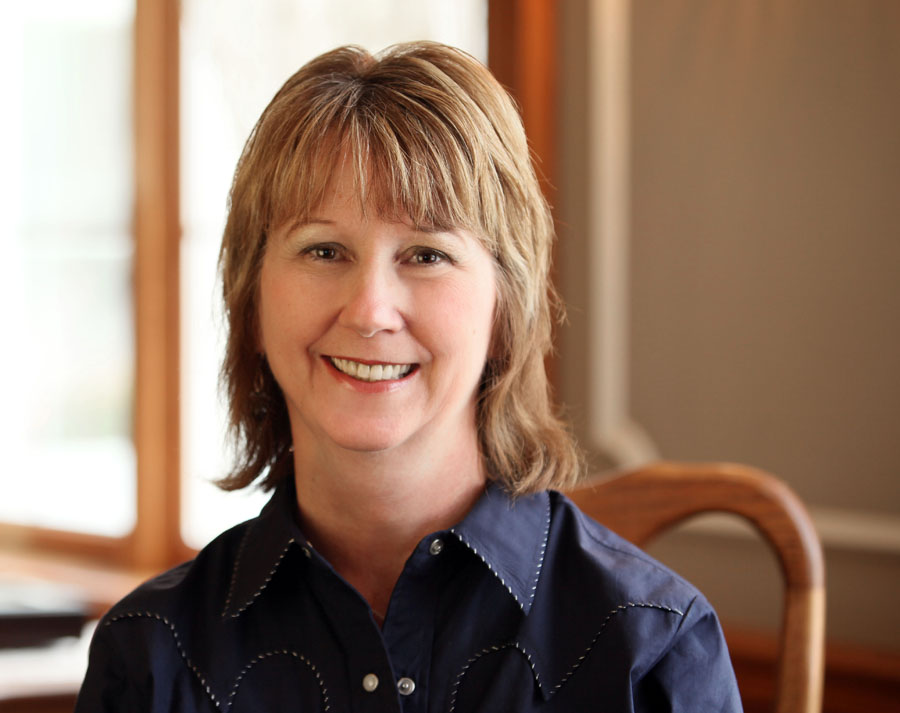 Vannetta Chapman
writes inspirational fiction full of grace, including romantic suspense and Amish romance novels. Chapman was a teacher for 15 years and currently writes full-time. She lives in the Texas Hill Country with her husband, pets, and a herd of deer. 
www.VannettaChapman.com
About Deep Shadows:
Life in Abney, Texas is predictable and safe—until the night a massive solar flare wipes out all modern technology. As the brilliant northern lights give way to deep shadows, single mom Shelby Sparks, her former sweetheart, and their entire small-town community must find a way to survive.
Purchase a copy:
Amazon | Barnes & Noble | Harvest House Publishers
Enter the drawing for a chance to win a paperback copy of Deep Shadows using the form below!
*The giveaway is open to US residents only (due to shipping costs). The form will close at midnight on August 2, 2016. Good luck!
Last 5 posts by Amber | AmishReader.com