Amish cooks are fond of using Velveeta cheese because it's shelf stable. And it makes sense when a household lacks refrigeration, because Velveeta can be stored on pantry shelves right alongside all the home-canned fruits and vegetables that Amish women process to feed their families over the winter months. So, even though it doesn't seem "Amish" or "old-fashioned," Velveeta cheese is a staple in many homes. (Although, with the advent of propane or gas-powered refrigerators, using Velveeta is more for taste than it used to be.)
The recipe I'm going to share with you today is one that I got years ago from an Amish Mennonite friend, but I've changed it—instead of using Velveeta cheese I now use cheddar cheese, which I think tastes much better. But if you like Velveeta, feel free to substitute—use 2 cups Velveeta cheese, cut into small cubes. It might take longer to fully melt into the cheese sauce, so turn the heat to low and keep stirring until completely melted.
One more note: This recipe easily serves 8-12 people, so feel free to cut the recipe in half (in fact, that's what I did for the photos that accompany this post) and bake it in an 8 x 8-inch baking dish instead.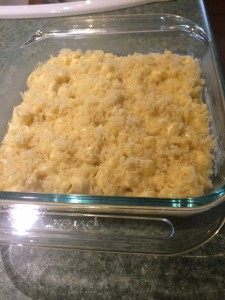 Homemade Macaroni and Cheese
½ cup Panko crumbs (you can substitute bread crumbs if you don't have Panko)
½ cup (1 stick) butter, divided
4 cups uncooked elbow macaroni noodles
¼ cup flour
3 cups whole milk
1½ tsp. dry mustard
4 cups shredded cheddar cheese
1½ tsp. salt
¼ tsp. pepper
* * *
Melt 2 tablespoons of the butter and, in a small bowl and using a fork, mix melted butter with the Panko crumbs, mixing until completely incorporated; set aside for now.
Cook macaroni according to package directions—don't overcook! Drain noodles.
While the noodles are cooking you can make the cheese sauce as follows:
Using 2 tablespoons of the butter (which has been softened to room temperature for easy spreading), grease the bottom and sides of a 9 x 13-inch baking dish; set aside for now.
In a large pot, melt ¼ cup (½ stick) butter over medium-low heat and then sprinkle in the flour, whisking as you do so. Turn the heat to about medium (or a wee bit higher) and cook the roux, whisking all the while, for 1 minute. Pour in the milk, whisking while you pour. Add the mustard, salt, and pepper and continue whisking until the roux boils and thickens slightly. Reduce the heat to your lowest setting, add the cheese, and stir to melt.
Combine the cheese sauce and cooked macaroni noodles; mix gently but thoroughly.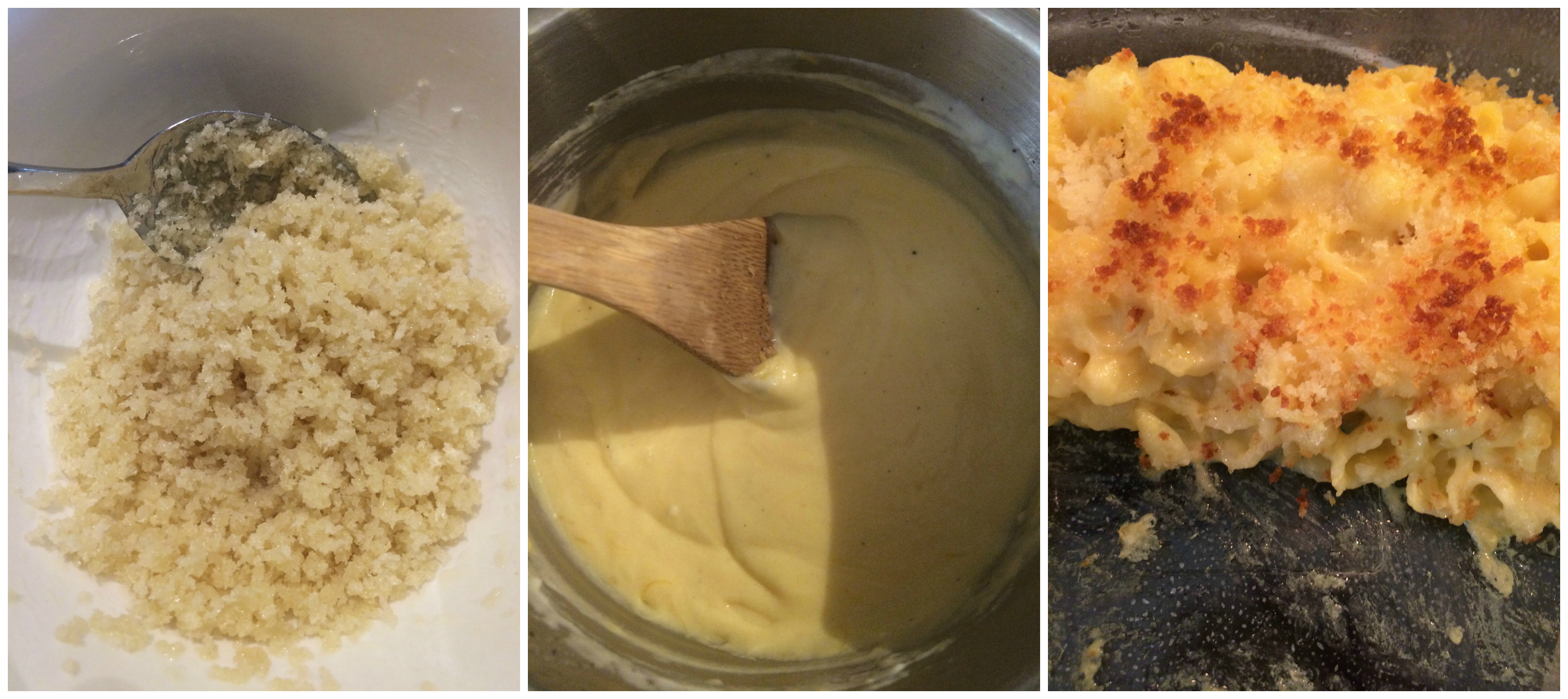 Note: You can eat the macaroni as is, but I like the Panko crumbs on top, so if you're in agreement, read on.
Pour the macaroni and cheese into the buttered baking dish. Top with the buttered Panko crumbs and then broil until the Panko crumbs are lightly browned. You can also refrigerate the macaroni and cheese and heat later. When ready to bake, remove from the refrigerator, cover with aluminum foil and bake in a preheated 350º oven about 25 minutes or until bubbly. You can finish by removing the foil and placing it under the broiler until the crumb topping turns light brown and crisps up.
* * *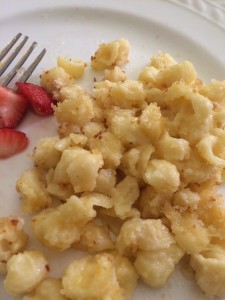 This is a very kid-friendly dish, but adults like it too. Whenever I make my homemade macaroni and cheese I'm sure to get compliments on the meal. And with the topping of Panko crumbs, deliciously golden and crisp, it's a dish you can even serve company!
Enjoy and may you and your loved ones be richly blessed today and always.
Georgia Varozza, author of the popular Homestyle Amish Kitchen Cookbook (nearly 60,000 copies sold), enjoys teaching people how to prepare and preserve healthy foods, live simply, and get the most from what they have. She works in publishing and lives in a small Oregon community. Visit her online at www.georgiaplainandsimple.blogspot.com.
Last 5 posts by Amber | AmishReader.com