On Monday our Facebook fans were asked to vote for the recipe they'd prefer out of three options. Since Thanksgiving is tomorrow, the options this month are centered on what you can do with your turkey leftovers:
Turkey Supreme
Leftover Turkey Croquettes
Chicken Party Buns (substituting leftover turkey)
And the winner is…Turkey Supreme! That name does have a certain ring to it, wouldn't you agree?
Here is the turkey supreme recipe, taken from The Homestyle Amish Kitchen Cookbook by Georgia Varozza: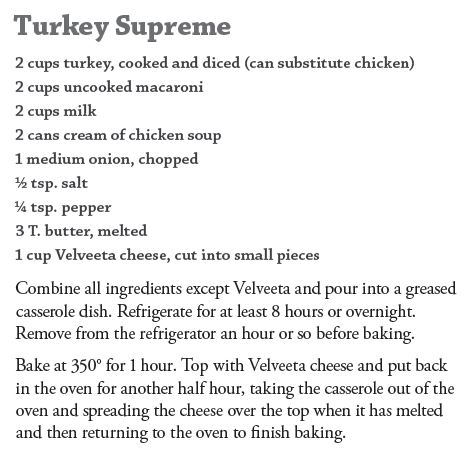 You can find the other two recipes in the same cookbook, which is currently only $1.99 in ebook format.
So after you've feasted on Thursday, enjoy trying something new with those leftovers! Have a simply wonderful Thanksgiving, Amish readers.
Last 5 posts by Amber | AmishReader.com