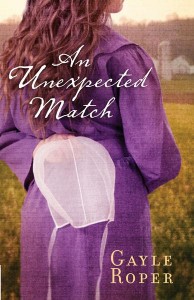 An Unexpected Match by Gayle Roper (September 2014)
About the Book:
Rachel Beiler loves her job as the teacher in her Amish community. She's obedient, humble, and compliant and tries to keep the ordnung to the best of her ability. But Rachel has a secret—something that could get her shunned if she's found out. She loves knowledge and yearns for a college education.
After serving a dozen years in the Army, Rob Lanier has returned from Afghanistan. But now that he's home again, he's constantly reminded of his family's fall from grace. His father—once a highly respected and wealthy community leader—has disgraced the family, and Rob can't find it in his heart to forgive him.
When Rachel and Rob meet, sparks fly. But when a series of frightening events surrounding Rachel's brother Johnny brings Rachel's world crashing down around her, this unlikely match between an Amish teacher and an Englischer ex-soldier seems to be God's perfect answer.
Purchase the Book:
Amazon | Barnes & Noble | Christianbook.com
Favorite Quote:
"What are you writing about for next Friday?" Rachel asked. She felt impatient that she had to wait a whole week for the next class because of Labor Day. "We can brainstorm with you."
"I don't know." He grinned that adorable grin of his. "It's not Thursday night yet."
What I Enjoyed:
The authentic and thought-provoking struggle Rachel has as she's torn between two worlds—one she vowed to be a part of with the family she loves, and the other where she feels free to truly be who God made her to be.
The unusual but charming friendship that forms between Rachel and two of her classmates. Such unique personalities!
The intriguing secondary characters—everyone from Rachel's parents and siblings, to her kind neighbor, admirable college professor, and some definitely not-so-admirable enemies that someone makes…
The suspenseful elements, as built up by a secondary character who gets himself in over his head.
The quirky animals (horse and dogs) that add another layer of emotion and fun.
The sweet romance, including a secondary romance that's also rather unexpected!
The unique premise of a young Amish widow wanting to attend college, and the great questions and discussions that arise from the twists and turns of her story.
Question for You:
Rachel finds some unexpected blessings in the Englisch world—including new friends and new lessons about faith. What's one unexpected blessing (big or small) that you've experienced recently?
Giveaway!
Leave a comment with your email address for a chance to win a paperback copy of this book!
Fine print: Giveaway is open to residents of the U.S. and Canada only, and participants must be 18 years old or older to enter. A winner will be randomly selected and emailed on Friday, November 21st. This giveaway is in no way sponsored by or affiliated with Facebook, WordPress, or Twitter.
Last 5 posts by Amber | AmishReader.com