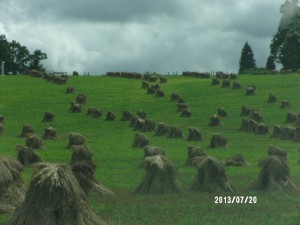 When readers and tourists alike think of Ohio's Amish country, they usually think of Sugarcreek, Walnut Creek, and Berlin. But I cherish some of the lesser-known small towns like Shreve and Fredericksburg, the setting for my latest release, A Plain Man. Located in the heart of Wayne County, these two towns are loaded with Amish buggies in a far less "touristy" atmosphere.
Every time I'm in Shreve I dine at Des Dutch Essenhaus, where the food is cooked and served by Mennonite and Amish women, and plenty of Amish-made crafts are for sale in the gift shop. My friends Diane and Rex Dye own the lovely Christian Homestead Bookstore loaded with both fiction and non-fiction, along with a fine assortment of homeschool materials. Be sure to also stop in at the hardware store while in town for a selection of gadgets not found in your local big-box store.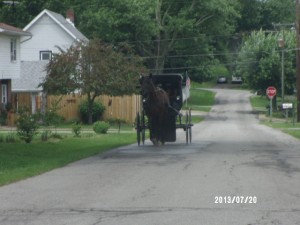 In Fredericksburg you'll find the end-of-the-line of a wonderful bike trail, converted from an old rail line from Cleveland to Millersburg. I've sent many friends down to Hotel Millersburg to spend the night and then ride up to Fredericksburg through the rural countryside. Besides exercising Englischers, you'll see plenty of Plain folks, both walking and riding the trail for a safe transportation lane. Also in Fredericksburg, look for the tiny, historic jailhouse. Once I found the door unlocked so I moseyed in, sat on the one cot in the one cell, and pretended I'd been arrested for disturbing the peace on a Saturday night. Although the wife of the mayor or sheriff no longer delivers home-cooked meals to the sole inmate, you still can savor a place where time has stood still.
In my story, A Plain Man, Caleb Beachy returns to the quiet serenity of Wayne County to heal his emotional wounds and rebuild his relationship with God. For myself, I reconnect with the slow, the simple, and the straightforward every time I visit Shreve and Fredericksburg, Ohio.
Mary Ellis has written twelve bestselling novels set in the Amish community. Before "retiring" to write full-time, Mary taught school and worked as a sales rep for Hershey Chocolate. Living in Harmony, book one of her last series, won the 2012 Lime Award for Excellence in Amish Fiction. Love Comes to Paradise won the 2013 Lime Award. Her current release is A Plain Man. She can be found on the web at
www.maryellis.net or on Facebook.
Photos of Ohio Amish country courtesy of Mary Ellis.
Last 5 posts by Amber | AmishReader.com