Happy sunny day, Amish readers! At least the sun is shining in Ohio, that is. After another cold snap last week green grass, leaves on trees, and flowers blooming in my garden sure are a welcome site. I thought I'd share a recipe from Love Comes to Paradise in case you're ready for something sweet. This came from my Amish friends in Winesburg, Ohio.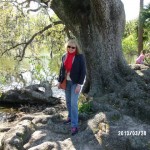 Fruit Tarts
Pastry:
2 cups Robin Hood Flour
½ cup white Crisco Shortening
½ cup yellow (butter-flavored) Crisco Shortening
8 oz. Cream Cheese
Pinch of salt
Mix all ingredients well with a pastry blender or fork. Form dough into balls and then place in a muffin or tart pan. Press dough into muffin or tart form and fill with your favorite fruit fillings approximately ½ to 2/3 full. (Lemon curd, raspberry, cherry, plum, or peach preserves.) Bake for approximately ½ hour at 350 degrees. Let cool and then add your favorite topping. We like whipped cream, but ice cream is really good, too.
Last 5 posts by Mary