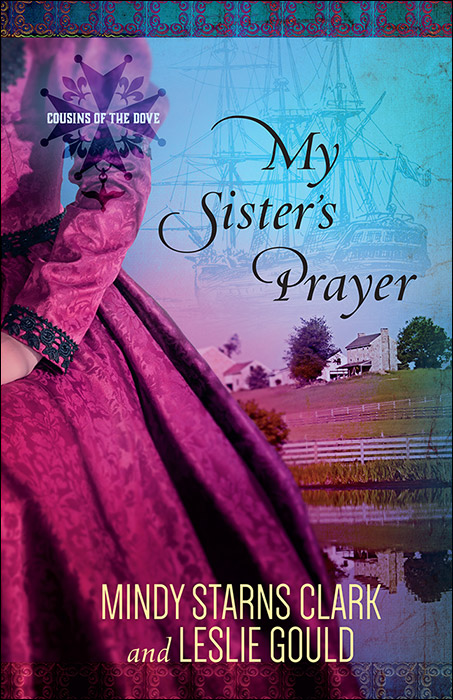 In this excerpt from My Sister's Prayer (the second book in the Cousins of the Dove series by Mindy Starns Clark and Leslie Gould), Celeste Talbot, from a family of Huguenots, finds herself in a desperate situation on a voyage to America…
Enjoy the preview! And if you'd like to learn more about the similarities and differences between the Amish and the Huguenots, be sure to check out Leslie's article.
***
Deep in steerage on the Royal Mary, Celeste Talbot pressed her palm against the ruby ring tucked inside her skirt, launching a new wave of guilt. For the hundredth time she wondered how Maman and Papa had reacted to her note about leaving for the New World. She wondered if they realized when they read it that their other daughter, Berta, was gone too. And the ring. How long before they discovered that it was also missing?
The bunk she shared with her sister creaked with the rocking of the ship, which was now more like the gentle rocking of a cradle than the fury they had endured for the last week. Berta groaned, and Celeste put her hand to the girl's forehead.
The fever had returned. Celeste dropped to the filthy floor, knowing her sister desperately needed to see the doctor.
But how would they ever pay for it? Besides Berta and the ring, all Celeste had left was a simple porcelain brooch from Jonathan that wasn't worth anything, a pittance of money, and one wool blanket. Everything else had been stolen several days into the voyage by some fellow passenger. Celeste had been trying to be a Good Samaritan, tending to those who were sick as best she could, when she realized one of the sickest—a young woman tucked away in a bunk on the far side of steerage—was her own sister. In her shock and the rearranging that followed, Celeste had neglected her belongings and someone had snatched them.
Now it was time to sell the ruby. There were plenty of first-class passengers who might be interested in such a purchase, and she could use some of the money to obtain food and another consultation with the surgeon.
Berta shifted in the bunk, and Celeste raised her eyes to meet Spenser Rawling's. He was a kind young man who had stayed near their sides since Celeste first discovered her sister. He'd jumped in to help right away, carrying the ailing Berta over to Celeste's bunk, and then soon after when Celeste realized that in all the confusion she'd been robbed.
Since then, Spenser's cheekbones had grown as hollow as hers and Berta's, but his square jaw helped give the impression that he wasn't as famished. And his confidence that they would all survive had given her an inkling of hope even as her internal storms, as powerful as the gales that had threatened to tear the Royal Mary apart, battered her soul.
When Celeste had decided to sneak away from home and sail to America on the Royal Mary, she'd had no idea nearly two hundred humans would be packed in worse than cattle, with little sanitation, water, or food, and rarely any fresh air. Though her family could have well afforded a first-class ticket, she hadn't much money of her own and had been forced to sign an indentured servant contract in exchange for a place in steerage. At least she'd had Spenser's help, thanks be to God. He wasn't the sort of person she would have given a second thought to back home, but she was grateful for him now.
Spenser stood, pulling his brown hair back in a leather tie. "I'll go get water." He'd had to steal it from the first deck the last few times. Perhaps the storm had filled the barrels—though whether he would be allowed access to them or not was another matter.
"Thank you," Celeste said. "When you get back, I'll buy food." There were rumors of passengers on the upper decks who would sell some of their leftovers to the starving wretches below.
Spenser raised his brows, and his hazel eyes questioned her. He knew she was nearly out of money. She'd been holding on to the little she had left for when they docked, to provide for her and Berta until they reached Jonathan. But if she could find a first-class passenger to give her at least a portion of what the ruby ring was worth, she'd have more than enough for food and medical care.
As Spenser headed toward the ladder, carrying the water bucket they shared between the three of them, Celeste leaned closer to her sister and whispered, "Berta, I'll get you the help you need. I promise."
***
Excerpted from My Sister's Prayer by Mindy Starns Clark and Leslie Gould
Last 5 posts by Amber | AmishReader.com