We're celebrating the release of Sewn with Joy (#PieShopBooks) here at AmishReader.com! This week we're featuring a series of fun interviews with author Tricia Goyer.
(And don't miss the awesome giveaway for a chance to win a Whirley-Pop popcorn popper gift set, a $25 Amazon.com gift card, and two copies of Sewn with Joy! To get your name in the drawing, fill out the form HERE or at the end of the post.*)
* * *
Interview with Tricia Goyer: Favorites
Character in Sewn with Joy: Joy is my favorite. She has a tender place in her heart for listening to Jesus and seeking to share him with others.
Line in the story: I love the advice that Elizabeth gave Joy when Joy was questioning if she should go against others' wishes to follow Jesus: "If you've gone to the Lord, and you believe you're doing the right thing, then trust in that," Elizabeth had said. "Sometimes it takes some people longer to come around, but if they're open to God's voice they eventually will."
Recipe featured in the book: I made the Zucchini Casserole, and it was delicious!
Hobby: I love reading. Every day I read for myself, and I spend a few hours reading aloud to my kids in homeschooling and at bedtime. I'm always excited about what book to read next.
Bible verse on joy: "Consider it pure joy, my brothers and sisters, whenever you face trials of many kinds, because you know that the testing of your faith produces perseverance" (James 1:2-3).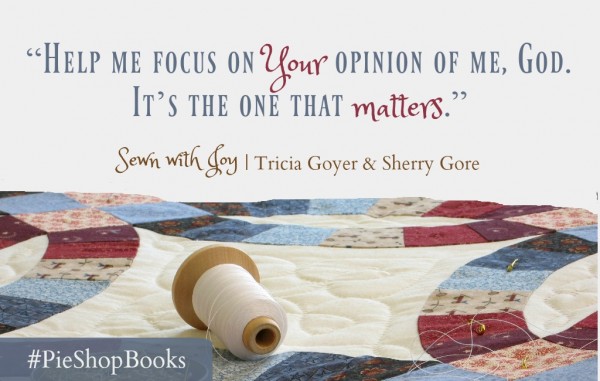 Your turn! Who's your favorite character in Sewn with Joy? What's your favorite hobby and/or Bible verse on joy? Let us know in the comments, and join us on Friday for Part 3 of the interview!
* * *
Tricia Goyer is a homeschooling mom of ten, grandmother of two, and wife to John. A USA Today bestselling author, Tricia has published over 55 books and is well-known for her Big Sky and Seven Brides for Seven Bachelors Amish series.
Visit her at www.TriciaGoyer.com.
*The giveaway is open to US residents only (due to high shipping costs). The form will close at midnight on October 3, 2016. Good luck!
Last 5 posts by Amber | AmishReader.com