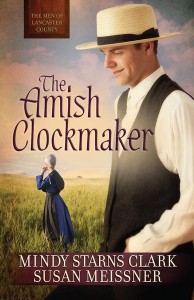 Not surprisingly, one overriding theme in The Amish Clockmaker is time—recognizing it, seizing it, respecting the fact that its passage cannot be stopped. Time is something that comes up often for me when I think of the Amish. For example…
When I visit an Amish home, time often seems to stand still. Without the usual noise and distractions of an Englisch household, I'm better able to be "in the moment" and savor what's right in front of me.
When I get dressed in the morning, my time often feels poorly spent. Standing at the closet, stumped, I tell myself that if I were Amish, this would be so much easier, no decisions required.
When I'm in the car, time often seems like my biggest enemy. Racing around like a madwoman, one eye on the clock, I can't help but wonder what life would be like if I were Amish. With only a horse and buggy to get me from place to place, I couldn't go nearly as far for the things I need—or think I need. I would group my errands and appointments more efficiently. I would eliminate various tasks and responsibilities entirely, because their distances would make them undoable.
There's just something about time and the Amish that feels right to me. They don't seem to fight time as I do. Thanks to their agrarian lifestyle, not to mention their eschewing of electricity, their days are far more in rhythm with the earth, with the rising and setting of the sun. Perhaps, sometimes, with God Himself.
Last night, I sat down to watch a show on Netflix. My husband and I usually head to bed at a decent hour, but he was out of town so I decided to stretch it a bit. But then one more episode led to yet another, and eventually I found myself deep into an hours-long binge watch. I finally turned the TV off in the wee hours of the morning, and today I'm tired and cranky.
Ephesians 5:16 tells us to make "the best use of the time, because the days are evil." Obviously, these things—a television, an automobile, a closet of clothes—are not evil in and of themselves. But they can serve evil, depending on how I choose to use them—or rather how I choose to allow them to rule me. Thanks to a plethora of modern-day devices, we have gained the ability to artificially prolong our days—which can sometimes lead us to pretend we're actually extending time itself.
But we're not.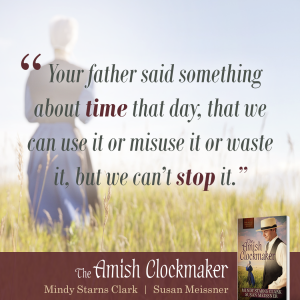 In The Amish Clockmaker, one character points out that we can use time or misuse it or waste it, but we can't stop it. Today, I am trying to embrace that truth. With an eye toward the Amish, I am reminding myself that…
I can make time seem to stand still, simply by eliminating distractions.
I can use time more wisely, simply by paring down my choices.
Finally, I can view time as a blessing, simply by being more deliberate in how I choose to spend it.
I pray the same for you as well.
***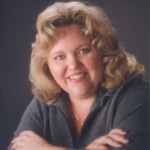 Mindy Starns Clark is the bestselling author of more than 20 books, both fiction and nonfiction (more than 800,000 sold), including coauthoring the Christy Award-winning The Amish Midwife. Mindy and her husband, John, have two adult children and live in Pennsylvania. Visit her online at www.mindystarnsclark.com.
Last 5 posts by Amber | AmishReader.com