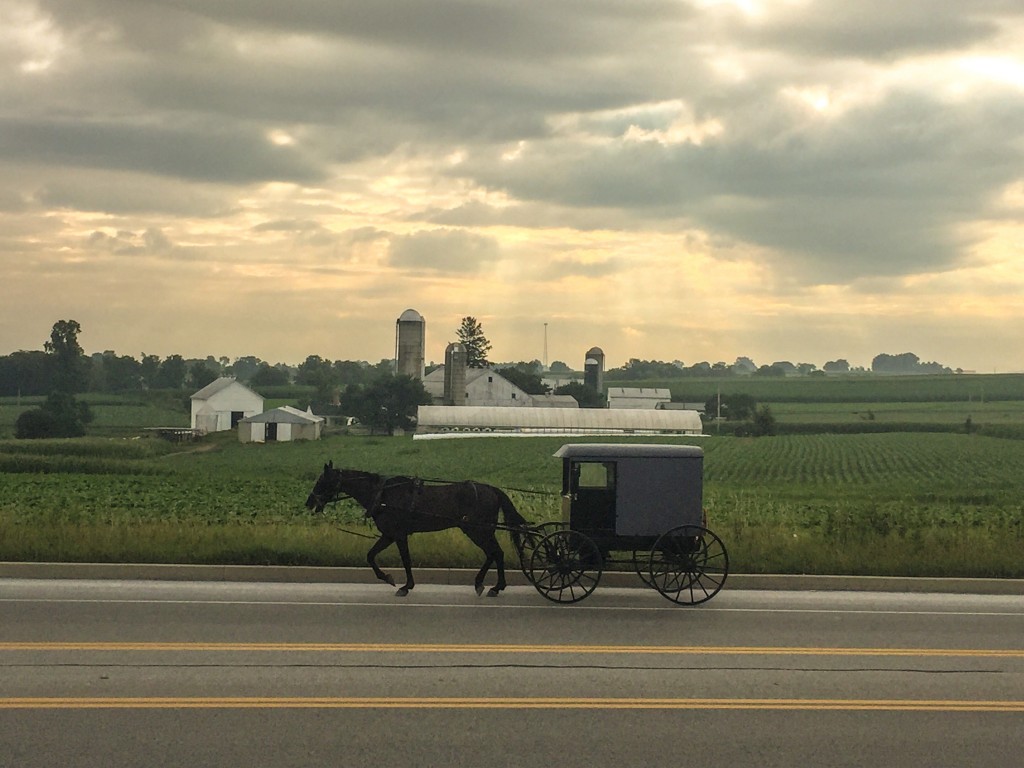 Hello, Amish Readers! Welcome to another beautiful month of summer. Hopefully you are all enjoying a little extra free time and getting caught up on some wonderful reading! Isn't the picture above beautiful? One of our friends recently visited Lancaster County and snapped that photo right outside of her hotel!
This month, Jerry Eicher's newest series, Peace in the Valley, is available for purchase! Even better, the books are all on sale from your favorite online retailer. On the Harvest House Publishers website, they are 50% off! Jerry Eicher is a longtime favorite of Amish fiction fans, and we are very excited that he has now authored 30 books.
We want to celebrate with Jerry, so we are hosting a fun read-along throughout this month for the entire series! Starting August 7, we will be reading one book per week for the following three weeks. If you want to read a little more slowly, that's okay! Though we will be sharing questions for discussion on the Amish Reader Facebook page, we'll make sure there aren't any spoilers. We'd love for you to join the read-along on Facebook and share your favorite moments or quotes, and maybe have some nice conversations with other Amish fiction fans!
In addition, we have a wonderful giveaway this month for one lucky reader! We'll be sharing the details in the next few days on the Facebook page, so keep your eyes open.
Each week, we'll be sharing an excerpt from each book in the Peace in the Valley series, starting next week with Silvia's Rose. But for now, here's what you can look forward to from each book…
Silvia's Rose (Book One)
Esther Stoltzfus considers herself to be down-to-earth, the way most Amish women do. Her marriage to her deceased husband was one borne out of practicality, and Esther sees no reason why God won't replace what He was taken away.
When Esther moves to a new community with her daughter, Diana, she meets the handsome minister Isaiah Mast, who has experienced his own loss and appears to be a logical fit to complete their family. But everything changes when Esther is introduced to Joseph Zook, her widowed neighbor down the road.
While tending to his treasured roses, Joseph tells stories of his passionate love for his late wife, Silvia—stories that stir a place in Esther's heart she never knew existed. What if she and Isaiah could have the kind of love Joseph and Silvia shared?
In the meantime, Joseph gets his own second chance at love with the eccentric Arlene King, even as he knows he will never find another frau like his beloved Silvia.
Silvia's Rose is a beautiful story filled with redemption, romance, and risking it all for the reward of true love.
Phoebe's Gift (Book Two)
Phoebe Lapp's grandmother was anything but ordinary. Before her death, the eccentric elderly woman purchased three Assateague ponies, seemingly for no reason. But after her passing, Phoebe learns of her beloved grandmother's wish to start an Amish pony farm in a lovely little valley near the Adirondack Mountains for hurting Englisha children. That dream now lies with Phoebe if she decides to fulfill it, but a teaching position is available as well. Which path should she choose?
Further complicating her decision, before her passing, Grandma Lapp asked a neighbor, David Fisher, to be involved in running the farm and help Phoebe. David agrees, but his sister Ruth has yet to abandon her rumspringa, and the only reason she hasn't left the church already is because of Grandma Lapp's kindness. Unbeknownst to Phoebe, David has secret hopes of attracting her affection, but Ruth's decision to stay or jump the fence could make things difficult for him.
Phoebe knows she has choices to make—whether or not to honor her grandmother's legacy and what to do about David's growing attentions toward her. But she's not alone. God is with her every step of the way.
Mary's Home (Book Three)
Mary Yoder's life couldn't get much better. She's engaged to be married, spring is in the air, and love is in her heart as she looks forward to the fall wedding she's always dreamed of.
Six months later on a crisp November morning, Mary awakens in a lovely little valley near the Adirondack Mountains on what was to be her wedding day, heartbroken and alone.
Her sister, Betsy, tries to protect Mary from the romantic overtures of Stephen Overholt, a longtime Amish bachelor. Betsy is considering jumping the fence for the Englisha world and encourages Mary to follow.
Meanwhile, Mrs. Gabert, an elderly Englisha grandmother, launches her own matchmaking effort on behalf of her grandson Willard, who is a missionary to Kenya and nursing his own broken heart. She hopes that Willard and Mary can find comfort in one another despite the fact they come from two different worlds.
As Mary struggles to accept the Lord's will, she must determine whether or not one of her potential suitors can give her the future that was denied her.
---
Don't all those stories just sound wonderful?
Pick up your copy of each book today, and happy reading!
Last 5 posts by Amber | AmishReader.com