Author Mindy Starns Clark has a brand-new blog, and that's where you'll find her exciting Countdown to Christmas giveaway! While the 25 days are over halfway through, there are still some fantastic book giveaways on the way, including Mindy's coauthored Amish novels (The Women of Lancaster County series and The Men of Lancaster County series).
Here's a quick look at the giveaway details…
Who: Giveaways are open to residents of the U.S. (but there are some great behind-the-scenes posts and extras everyone can enjoy!)
What: An epic giveaway of Mindy's books!
When: December 1-25, 2015
Where: Mindy's new blog
Why: To celebrate Christmas and Mindy's new site
How: Fill out the form on this post → HERE (You'll be entered in all the drawings)
We hope you'll join the fun—and have a very merry Christmas season!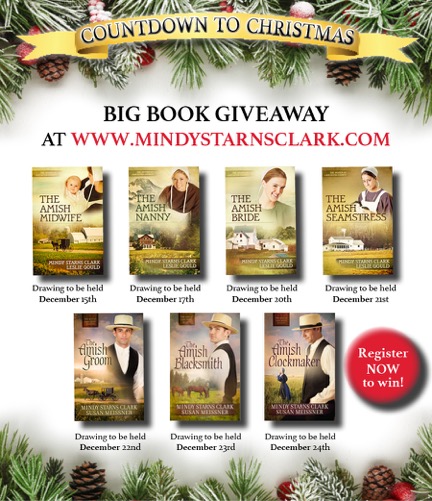 Last 5 posts by Amber | AmishReader.com