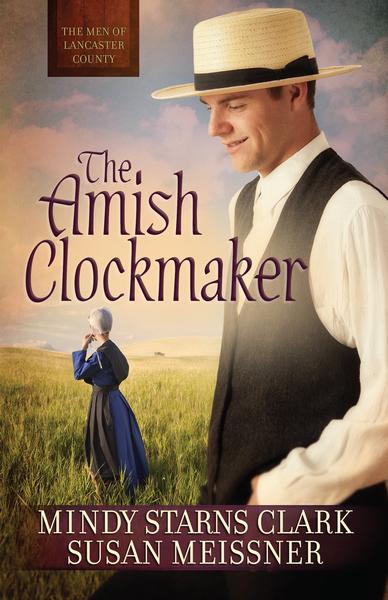 The "Clockmaker Countdown" continues, with only 12 more days until the official release of The Amish Clockmaker, Book 3 in The Men of Lancaster County series by Mindy Starns Clark and Susan Meissner.
(But if you just can't wait to get your hands on the book, it's currently in stock at Amazon and Christianbook.com!)
In the meantime, here's a sneak preview to introduce you to the mystery. This is from Part 1 of the book, which takes place in present day and is told from the point of view of the current owner of the clock shop (now a tack and feed store). Enjoy!
***
"Since when do Amish refuse to help other Amish?" I asked as I banged the dust from the pan into the trash bin. "We are always there for one another."
Amanda let me rant, perhaps sensing I needed to get the frustration and worry out of my system. When I was finished, she didn't even try to say anything to cheer me up, for which I was grateful. She must have caught on to how dire our situation was growing and knew that mere words would not encourage me now.
After she finished closing out the register, we carried the money to the back room to put it in the safe.
"What's that?" she asked, looking toward the area that had been partially dismantled when we'd broken down the old bathroom on Wednesday. Glancing over, I realized she was talking about an ancient coal hamper that our work had uncovered. Unused for I didn't know how many decades, it had been built into the far wall of the original structure and later covered over with plaster.
"Do you know?" she prodded, stepping toward it to get a closer look.
"Ya, that's an old coal bin," I explained as I finished locking away the cash. "Which means this building must have used coal heat at some point in the past."
Located at about knee level, the bin's metal door was flush to the wall and had been designed to work in tandem with a similar door on the exterior, where the coal would have been dumped into it from the outside. That door was long gone and bricked over, but this one had been made accessible again the other day when we'd broken away some of the wall's plaster. Amanda leaned down to study it now, and then she gripped the handle and gave it a tug.
"I wouldn't do that if I were you," I said in warning. "You might end up in a cloud of coal dust."
But it was too late. She'd pulled it open and was already peering inside.
"No dust," she said, her voiced echoing against the metal of the bin. "It's perfectly clean, as a matter of fact. But come look, Matthew. There's something else in here."
Skeptical, I joined her and peered down into the hamper. Sure enough, there was something at the back, wrapped in what looked like blue cloth. I reached into the hamper and pulled the bundle gently from its tomb-like niche, hoping it wouldn't disintegrate at my touch. But the space felt cool and dry, and I was able to easily lift the item from its hiding place. The cloth was soft to the touch, with hand-stitching around the edges, though whatever it encased seemed heavy and hard. I laid the package on a nearby table. Together, Amanda and I peeled back the corners of the blanket.
Inside was a clock, an intricately carved but very dusty mantel clock. For a moment, we just stared at it. It sat on an equally finely carved pedestal, and even though the cabinet was discolored and covered in dust and cobwebs, and the glass over the face of the clock was cloudy, I could see that it had been beautiful and quite fancy in its day.
It was definitely not an Amish clock, but I had a pretty good idea which Amish man had made it.
For a long moment, Amanda and I stood in silence, taking in this unexpected sight.
"Why in the world was a thing this beautiful shoved into a coal bin?" she asked.
My thoughts exactly. "I don't know. Maybe Clayton or his father used the old bin for storage once the shop converted over to another source of heat."
Amanda took the clock and studied it more closely, looked in the bin again, and said, "I don't think it was put there for storage. I think someone was using the coal bin as a hiding place, someone who didn't want this clock to be found."
***
Excerpted from The Amish Clockmaker by Mindy Starns Clark and Susan Meissner
Intrigued? If you haven't read the book yet, what would you guess is the reason why the clock was hidden in the coal bin?
Last 5 posts by Amber | AmishReader.com