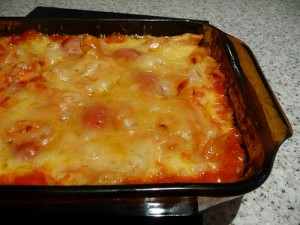 Now here's a recipe you don't see every day. It's a dinner casserole, taken from Wonderful Good Cooking, from Amish Country Kitchens, copyright 1974 by Amish Country Publishers of Holmes County in Berlin, Ohio. The author, Johnny Schrock, was a friend of my sister-in-law and brother-in-law. Regrettably, he passed away last fall, but his wife gave me permission to post a few excerpts from his book.
I am constantly amazed at the prevalence of canned soup in Amish recipes. Not sure why – I use it regularly in my own culinary creations. It just seems the Amish would have a natural alternative, or something. But when I give it a second thought, the Amish lifestyle is all about simplicity. What could be simpler than making use of a can of soup?
WIGGLES
1 ½ pounds hamburger
5 slices bacon
2 small onions
1 ½ cups diced potatoes
1 ½ cups diced carrots
1 ½ cups diced celery
1 can mushroom soup
1 cup peas
1 quart tomato soup
2 pounds Velveeta cheese
1 pound spaghetti (or noodle of your choice)
Cook vegetables separately. Fry bacon, take out of skillet. Fry hamburger and onions in grease. Put in a roaster, add potatoes, celery, carrots, and peas. Add mushroom soup and cooked spaghetti. Arrange bacon slices on top. Add grated cheese. Pour tomato soup over top. Bake 1 to 1 ½ hours at 350 degrees.
Last 5 posts by virginia