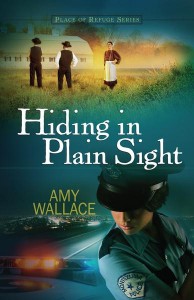 Releasing on April 1st!!
World weary and down to a threadbare faith, police officer Ashley Walters seeks refuge in Montezuma, Georgia, a quiet town with a thriving Mennonite community. Yet even in the peaceful surroundings, she can't escape the haunting memories of crime-ridden Atlanta.
Then marriage-and-family counselor Patrick James partners with a teenaged Mennonite runaway to offer Ashley a second chance at redemption…and romance. But when violence erupts over revitalization plans that pit the Montezuma and Mennonite communities against each other, Ashley is forced to stop the person responsible—even if he is someone she's come to love.
As God unlocks the secrets darkening Ashley's heart, she must answer two crucial questions: Who is in control? And can she trust Him?
(Place of Refuge Series, Book 1)
Last 5 posts by AmishReader.com