Lori Copeland and I are so excited about our new book, The Heart's Frontier. It's a rolicking old west story set on a cattle drive in 1881 Kansas. It's got a handsome cowboy, a sweet and stubborn Amish girl, and the most adorable cow you've ever seen on the cover!
In fact, we like this cow so much we've decided to run a contest to name our cow! Come up with a terrific name for our cow and you might win an Edible Bouquet – a delightful and beautifully arranged assortment of fresh fruit. The contest entry forms are posted on our websites:
VirginiaSmith.org
LoriCopeland.com
CopelandAndSmith.com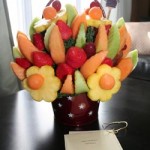 We will post the entries and declare a winner in two weeks. So put on your thinking caps and get creative. Our cow needs a name!
Last 5 posts by virginia