Wow, it sounds like I'm not the only one who loves potato pancakes. And since everyone has a different way of making them, here are two more potato pancake recipes from The Homestyle Amish Kitchen Cookbook. Enjoy!
Potato Pancakes I
4 large potatoes, peeled, enough to measure 3 cups of grated potato
&#188 cup onion, very finely chopped
2 eggs, slightly beaten
2 T. flour
&#190 tsp. salt
pepper to taste
Grate potatoes using a large-sized grater. Pat dry.
In a large bowl, combine grated potato, onion, eggs, flour, salt and pepper.
In a large, heavy skillet, slowly heat oil &#8539″ deep until very hot but not smoking. Drop potato mixture into hot oil in 2-tablespoon increments. With a spatula, flatten pancakes against bottom of skillet. Fry 2 to 3 minutes on each side. Drain well on paper towels.
Potato Pancakes II
3 medium cooked potatoes, grated
1 egg, beaten
1 tsp. salt
In a medium bowl, mix all ingredients together.


You can find many more authentic Amish recipes in The Homestyle Amish Kitchen Cookbook.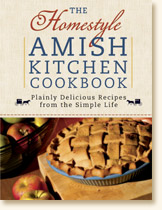 Last 5 posts by AmishReader.com